Any Document or Design Program:
Adobe InDesign, Adobe Illustrator, Microsoft Word, Pages etc.. 
At GraVoc, we are constantly exploring new and engaging solutions for presenting information in a creative way. In our opinion, PDF's are one of the most over-looked marketing pieces that companies don't take full advantage of. When designing a PDF at GraVoc, we love adding engaging features to the document to help bring it to life such as videos, clickable buttons, interactive check boxes and radio buttons and much much more.
For this blog post and for the video above, we will be referencing an interactive PDF that we made to help our co-workers adjust back to the office after COVID-19. We demoed this PDF in a recent webinar we did on Creative Solutions for Back to Office Messaging. 
Click here to view or download our interactive PDF from the video above.
Setup Your Document in 3 Easy Steps
 STEP 1: Create a document in whatever design program you are using.  
This could be any program such as InDesign or Microsoft Word. We created our demo document in Adobe InDesign but any program can be used to create the document. 
STEP 2: Export the document as a PDF.
How to Add Video to PDF
For best results, when your designing your document, draw a placeholder where you want your video to be.
When you bring your PDF into Acrobat, click on the 'Tools' option and then click on 'Rich Media'.
Next, after you have clicked on 'Rich Media', from the top menu you can select to add a button, sound or video. For this, we want to select 'Add Video'. 
Once you select Add Video, draw a box over your video placeholder where you want the video to be positioned. 
Once you draw your box, your 'Insert Video' box appears. You can add your own video from your computer or you can find a video from online and use the video URL. There's also an 'Advanced Options' where a user can get creative and do things to the video such as have it load right when the PDF opens or when the video is clicked on. Users can also choose their own thumbnail for the video by clicking on 'Create Poster from File' under Poster Image.
The video is then imported directly onto the PDF and becomes clickable for anyone to watch!
How to add interactive check boxes to a PDF
Another cool feature that can be added to a PDF are interactive checkboxes. In our Back to Office guide, we inserted a checkbox that our employees can check off confirming that they have read and understand the new policies that are being put in place.
To add in interactive checkboxes, you can design the actual checkboxes in whatever program you are using and then once exported to PDF, you can bring the PDF into Acrobat to add in the checkboxes. 
Once in Acrobat, click the option 'Prepare Form'. Once you select Prepare Form, you will see a list of tools that you can add into the PDF such as radio buttons, barcodes, dropdown menu and more. For this, you can select the Checkbox icon as seen below. 
Once you select the checkbox option, draw a box over the square that was made for the checkbox from the original document. Acrobat will then ask you to name the field and then once you click save, you are all set!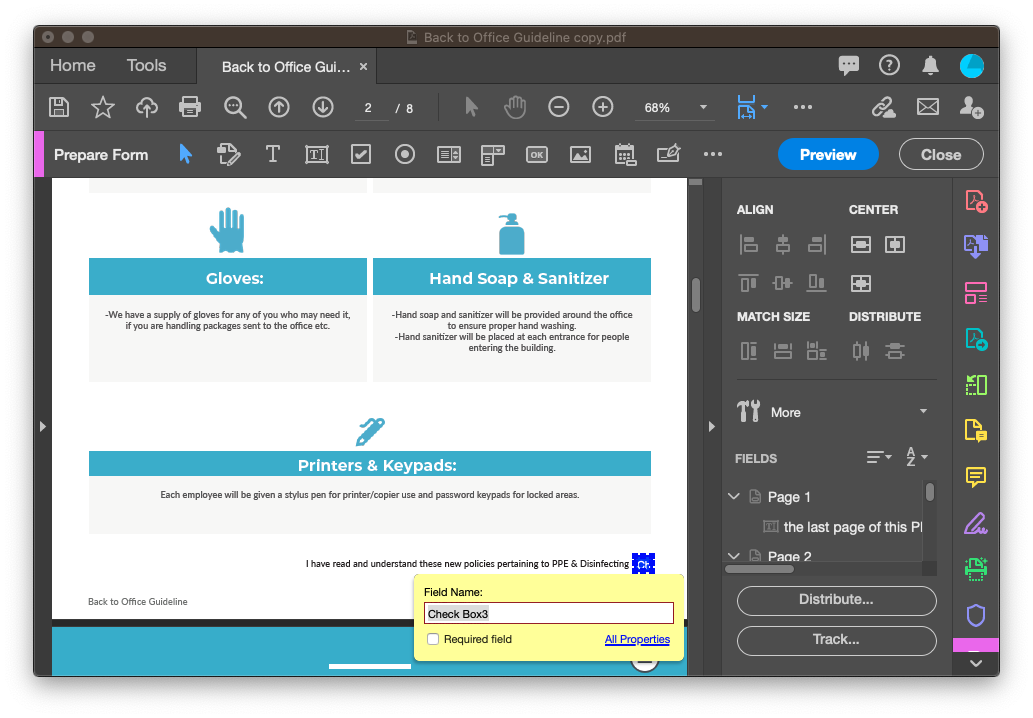 We hope we have provided some beneficial tips on how you can bring your static PDF to life by adding in interactive elements! If you have any questions or are looking for more creative ways to market your business, check out our Digital Marketing Services! We do everything from web design to video & drone production to help market your business in the most creative way possible!
Check out the visually engaging and responsive website we designed for Illinois Clean Fuels as well as the company's revamped logo design!
read more