digital transformation consulting.
digital transformation consulting.
full-scale
digital transformation

to power business agility.

The COVID-19 pandemic disrupted the 'normal' business workflow and accelerated the pace of technology adoption. So, digital transformation – once a cool corporate buzzword – is now key to fostering business innovation, adapting to evolving customer demands, and building a modern workplace. Leverage GraVoc's digital transformation consulting services to implement the technology infrastructure your business needs to stay agile, efficient, and competitive in the digital age.

Our team has worked with businesses across industries to provide tailored solutions that modernize their technology infrastructure and reimagine operations. Power business innovation, marketing, and growth with our digital transformation consulting services.

Keep scrolling to learn how our digital transformation services can transform your business, or click below to contact us today!
our
digital transformation consulting

services.
Enterprise Resource Planning (ERP)
Optimize and automate business processes with a custom ERP system. We implement Microsoft Dynamics/Dynamics 365 ERP business applications that are tailored with integrations, customizations, and reporting functionality that allow you to achieve increased efficiency.
UI/UX Web Design
Generate new leads and build brand awareness with a responsive WordPress website. Our team creates custom web designs with strong UI/UX that enhance your business' search visibility and boost user engagement.  
IT & Cloud
Unlock the full potential of your technology infrastructure with our IT and cloud modernization services. Our team will upgrade and optimize your IT infrastructure components, such as networks, servers, and devices. We can also help you leverage new cloud, email, and remote collaboration solutions.

Cybersecurity
As cyber threats evolve, so should your security programs. Our certified cybersecurity team can identify and remediate vulnerabilities in your IT and cloud systems. We also provide extensive security testing, training, and certification readiness services.  
benefits

of digital transformation:
Deliver elevated customer experiences
Boost productivity and collaboration across your workforce
Identify revenue-generating opportunities with real-time data and reporting
Strengthen cybersecurity posture
technologies

we use to drive your business' digital transformation.
Artificial Intelligence (AI)
our digital transformation
process.
Business Process Review
Perform a detailed analysis of your current business operations and systems to identify outdated infrastructure or processes that need to be optimized for growth.
Digital Transformation Strategy
Map a strategy to enable digital transformation across your business, including planning for any hardware or software procurement and implementation.
Implementation
Seamless execution of the digital transformation strategy with minimal disruption to business operations.
Security & Testing
Evaluate all systems to troubleshoot any issues before launch. Our team also offers cybersecurity and IT audit services to mitigate risk exposure and ensure system configurations align with industry-relevant security standards or regulations.
End-User Training
Extensive end-user training and support to accelerate adoption of new technology.
Support
Once your final project is developed and implemented, we provide a full-suite of support services for you and your team.
choose
GraVoc

for your digital transformation consulting.

For over 29 years, we have worked with hundreds of clients – from SMBs to large enterprises – to seamlessly integrate new and evolving technology into their business operations. Our diverse team of designers, developers, cybersecurity experts, and IT consultants deliver fast-paced, strategy-driven digital transformation for clients.

Clients benefit from our long-standing domain expertise, cutting-edge solutions portfolio, and broad network of partnerships. We drive digital transformation for your business, helping you build momentum and scale capabilities for continued success! Contact us today to get the ball rolling on your organizations digital transformation!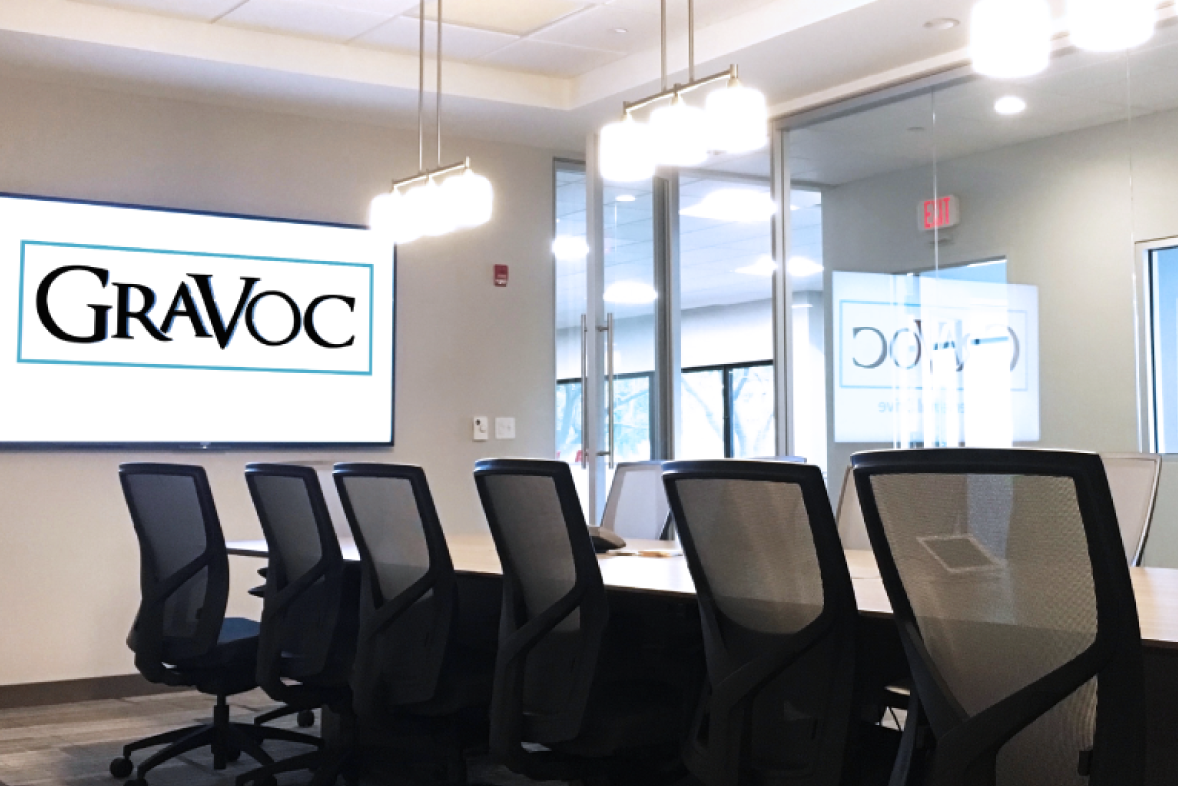 let's talk about your

digital transformation

.